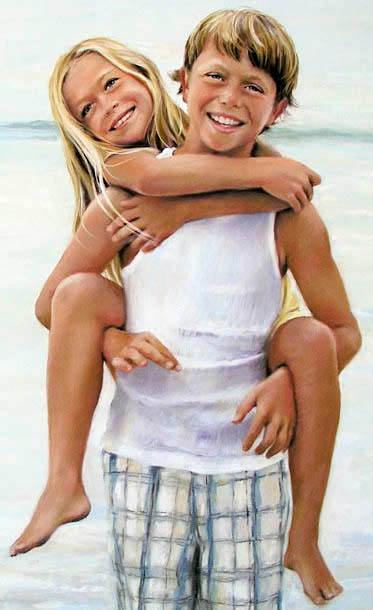 Pastel Portrait Fees
"PASTEL is pure pigment... It is the most permanent of all media, when applied to conservation ground and properly framed. Pastel has no liquid binder that may cause other media to darken, fade, yellow, crack or blister with time. Pastels from the 16th century exist today, as fresh as the day they were painted." Quoted from the Pastel Society of America
One child or adult
Head and shoulders, approx 16x20 to 18x22......$2500-3000
Head and shoulders, smaller, approx 11x14.......$2000-2500
Figure, from 18x22 to 30x40............................$3000 to 4500
Two people, in same composition
Head and shoulders, approx. 16x20...............$3000 to 3500
Figures, from approx 18x22 to 30x40.............$3500 to 4500
Three people, in same composition
Head and shoulders, art approx 16x20...........$3000 to 4000
Figure, art approx 18x22 to 30x40..................$3500 to 5000
Larger groups by quote.
Fees include all planning meetings and sketches needed to produce the completed art, unframed. Framing costs vary greatly by the client's choice; though a frame is not included, the artist will assist in making framing arrangements. Possible travel fees.
PENCIL and SEPIA SKETCHES
Beginning at $700.
"WE LOVE IT! Thank you so much. It is just how I envisioned it. The colors are perfect, the composition, everything. You did a terrific job." K.F., San Diego
---